Intranet themes are used to create a restricted and private communication network for sharing essential company resources such as presentations, videos, or any materials. This also helps in improving corporate communication among an organization. 
Choosing the best WordPress intranet themes is indeed a tough row to hoe because you need to consider developing two versions of the same website; one for the mobile and the other for the desktop screen. This could become a bit steep for your pocket, but the good news here is that we have selected the best intranet themes of 2021 that are affordable and possess all the necessary features to meet all your requirements. 
So without further adeo here are the best WordPress intranet themes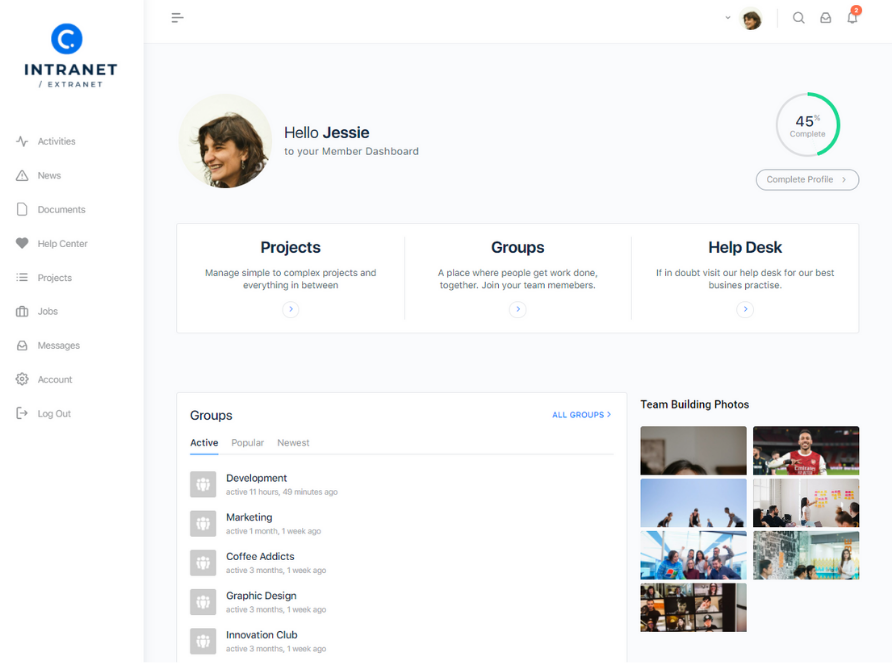 Community theme is considered as one of the best WordPress intranet themes due to the fact that it is adaptable to a range of applications and helps users in creating incredible online communities and enrich them with updated posts, groups, and more. The easy-to-customize feature significantly helps in creating a unique design for your online community that looks exactly the same as per your desire and it's not restricted by any pre-configured settings. The visual customizer also enables you to control the color of every aspect of your website and also offers readymade color schemes to choose from.
Key features:
Fast loading speed

Range of color schemes to choose from 

Custom LearnDash and WooCommerce templates

Ease in creating multimedia lessons

Enables quick-layout for quizzes 

Amazing online membership programs
Pricing:
Community theme comes with different deals and packages. It costs about $205 annually for a single website. If the number of websites is five, the theme is available at a discounted price of $259 billed annually.
Who is it for?
If you want to develop a strong online community in an affordable price range and integrate it with popular WordPress plugins like WooCommerce and LearnDash, then this theme is ideal for giving direct access to your community, courses, videos, and so on.
WOffice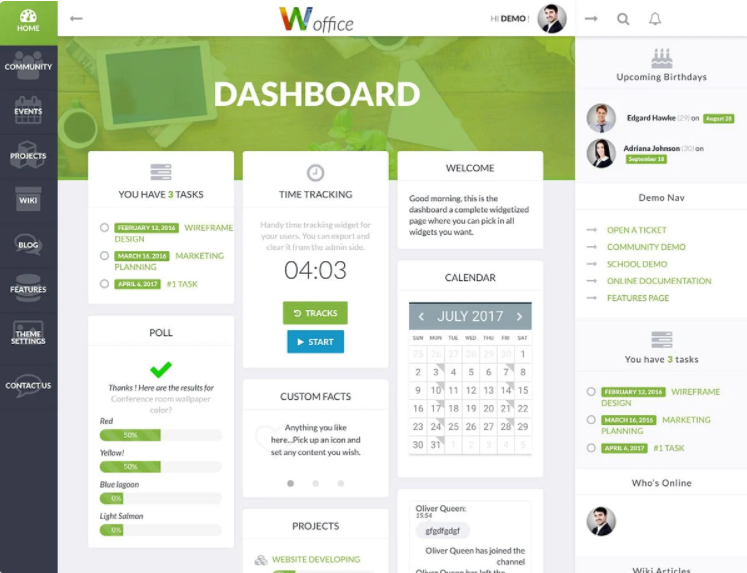 Woffice theme has a significant demand in the marketplace because it has an easier and quick installation process. There isn't any obstacle or a complex coding system for the users. Additionally, the theme provides customizable login pages so you can easily organize and secure your private and public content. 
Key Features:
Enables online project management

Elegant design with easy to navigate User Interface

Translated version available in more than 15 languages

Updated and improved constantly after two years of its launching

Powered by two extensible WordPress plugins: bbPress and buddyPress

Provides support for multi user accounts
Pricing:
The regular price of the theme is $79 and it also offers a 6-month support from Alkaweb. The support can be extended to 12 months with additional costs.
Who is it for?
The theme is ideal for those who work remotely and want to manage their projects online. The theme is fully adaptable to a variety of applications like school networks and charities institutions etc.
Aardvark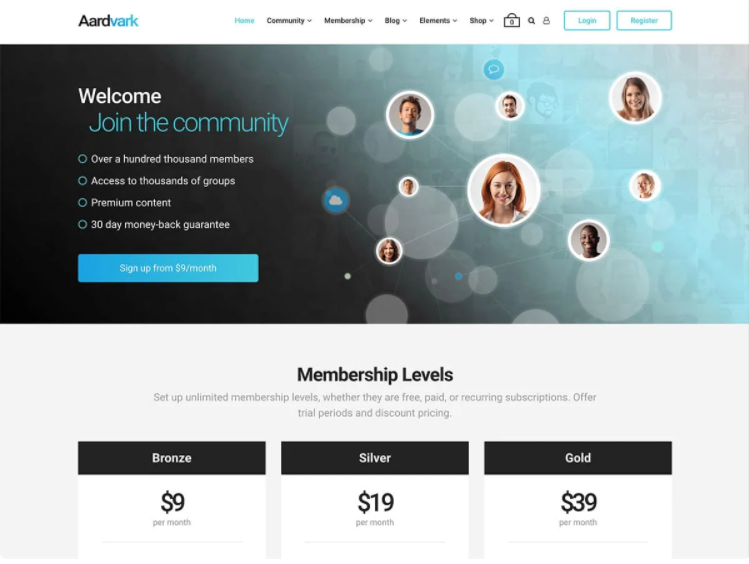 This community theme is targeted at creating community website with a membership system. The theme is fully responsive to mobile devices which is in fact a great source of bringing traffic to the websites. If we analyze the visual appearance of the theme, it has lot to offer with pre-configured settings to make your website more appealing to the users.  It also offers compatibility with BuddyPress; a well-known WordPress plugin for community websites.
Pricing;
A Regular License costs- $65 
Quality check performed by Envato 

Provides offer for theme hosting

Includes Future Updates

Includes 6 months support from GhostPool
Who is it for?
The theme is recommended for those who are looking to create a paid membership system and sell their courses online.  Additionally, if you are looking for some interesting features all in one go like the display of notifications tabs, elegant designs, group shortcodes etc. then Aardvark theme should be your next purchase. 
Buddyapp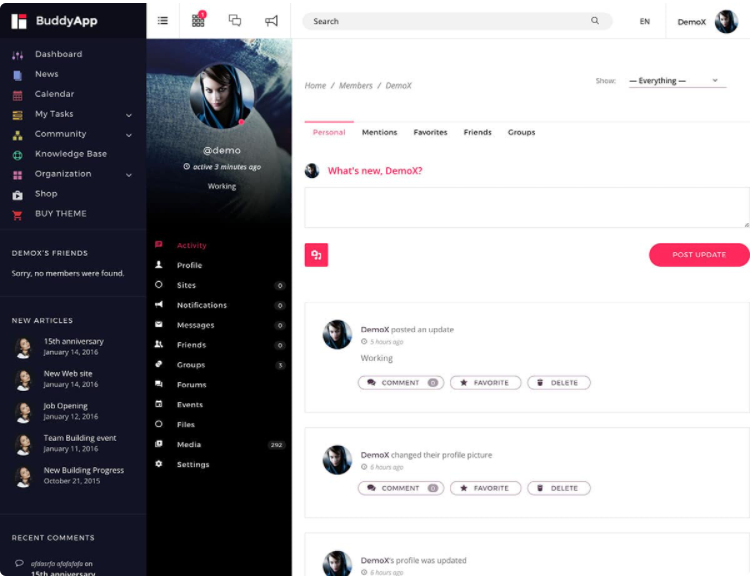 Buddyapp is a customized WordPress theme that is specifically targeted for mobile platforms. Being a responsive theme for mobile users, it has great potential to bring internet traffic to your website and hence you can reach out the huge marketplace. 
Key features
Visual composer is included 

Live customizer to display your live settings

Mobile Friendly

Icon fonts are available

AJAX search in posts, members and groups

Easy integration with WooCommerce

Ready-made google fonts available for headings and texts

Drag and drop builder included 
Pricing;
A Regular License costs- $43 
Quality check performed by Envato 

Provides offer for theme hosting

Includes Future Updates

Includes 6 months support from SeventhQueen
Who is it for?
The theme is quite attractive for creating huge communities and bringing them together in a single platform. It has all the needed plug-ins and widgets to choose from. You don't need to purchase them separately. Its functionality is quite simple and can assist you in managing your contact forms, slideshows, and social media links with just a single click. 
OneCommunity- BuddyPress membership theme
OneCommunity is a BuddyPress membership theme to build outclass community websites and engage users with its easy-to-navigate tools. It offers a variety of features to help you build a community for all reasons. For instance, you can create a social network for a sports team, an institution, or even a community to promote your business. The best part about this theme is its simplicity as no additional coding skills are needed to run your website.
Pricing;
A Regular License costs- $59 
Quality check performed by Envato 

Provides offer for theme hosting

Includes Future Updates

Includes 6 months support from Diabolique
Who is it for?
OneCommunity theme is a pre-built theme for all those users who want to save a lot of their time and money. The theme offers a lot of layout options and is quite adjustable in its design, look and overall feel. It is a very well-maintained theme and ideal for bringing the student community together. If you want to sell your courses or other educational services online, then this theme is a great option to choose from.