A WooCommerce store is one of the most versatile and powerful ways of setting up your eCommerce store. With access to tons of plugins, it allows you to create feature-rich e-stores in a jiffy – this includes setting up a dedicated wholesale online store.
By installing a single WooCommerce Wholesale plugin, you will get access to all necessary features and functionalities to help you accept and deliver wholesale requests. 
But that being said, the market is flooded with tons of sub-par WooCommerce wholesale plugins. As such, we have put together a quick read to help you pick the best plugin for setting up your wholesale e-store.
Here we will tell you what features to look for in the best WooCommerce wholesale plugins. And on top of that, we will also highlight the best wholesale plugins currently circulating the market.
We have handpicked a shortlist of some of the highest-rated plugins in the market; without further ado, let's look at the best wholesale plugins for WooCommerce::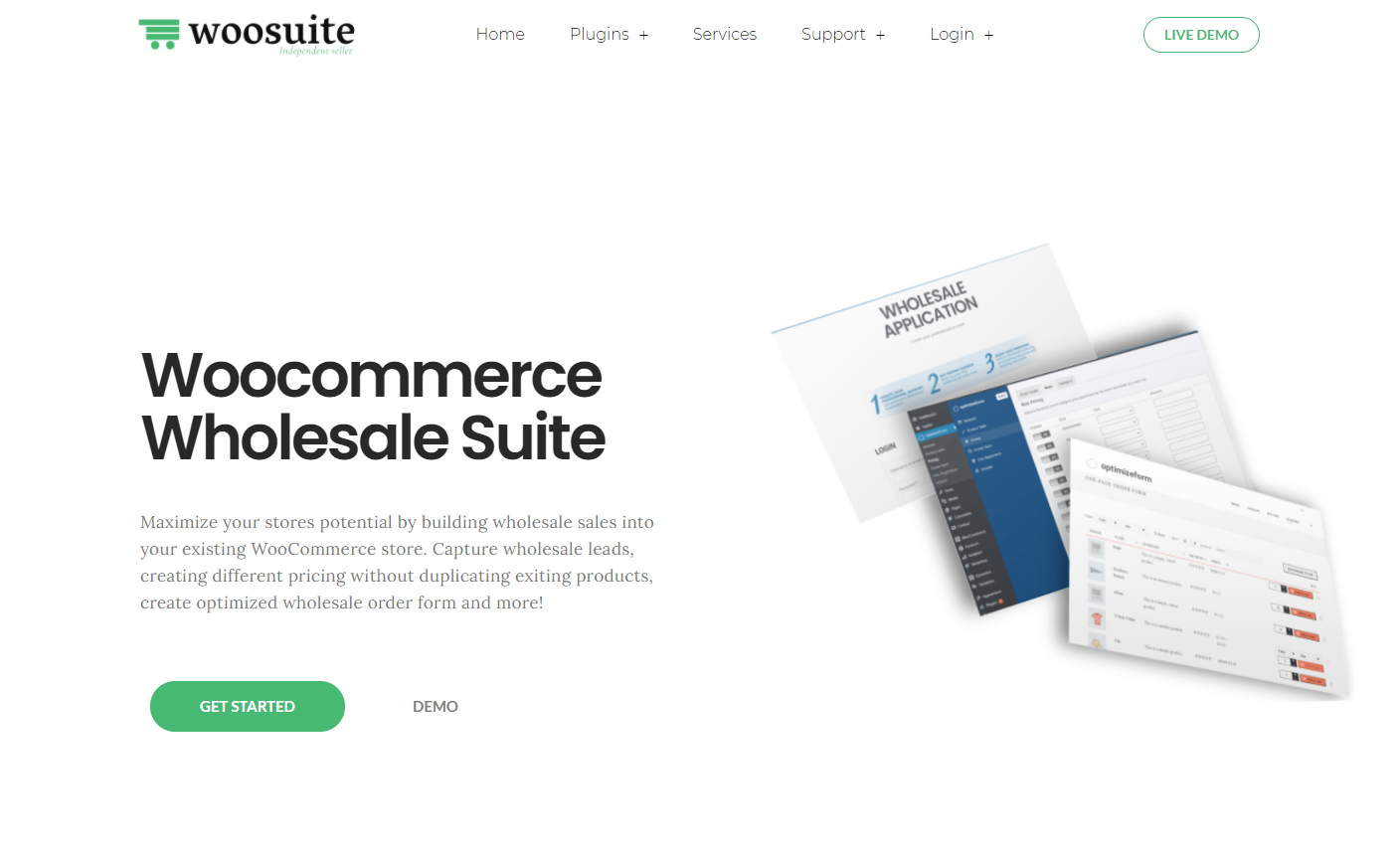 Woosuite offers a powerful Wholesale solution for creating an order form, wholesale pricing, registration, tax management, and more. 
It gives you access to specific features that allows you to cater to b2c and b2b customers creating a unique experience for both groups.
Here is a quick look at some of its key features to give you a basic idea of what it has to offer.
Key Features:
Option to set dynamic pricing for your Wholesale customers, which are discounted from the retail price of the products.

Wholesale prices can be set according to user roles, minimum order amount, or even the product category.

You can set a minimum quantity and maximum quantity for wholesale orders on each of your products.

Offers a streamlined one-page ordering process.

Supports the wholesale customer/distributor registration. You have full control over which users are approved and rejected from using your wholesale platform.
Who is it for?
Since this is a module for Woosuite, it makes the most sense for users who are looking forward to using the Woosuite plugin in the first place. This includes users looking to streamline the entire ordering process to offer a faster and more advanced user experience for their users.
The Optimize Wholesale module works on top of that to help you with wholesale customer registration and setting up dynamic pricing for these users.
Pricing
Pricing for Woosuite's Starter bundle, which includes the Woosuite Wholesale bundle, starts at $69/year. It comes with a license to use on a single website.
However, if you really like it, you can go for their Lifetime Access plan, which will cost you a single payment of $397 and give you a license to use it on unlimited websites.
Support
If you run into any problems, you can get in touch with the Woosuite support team via Email. Typically they reply within a few hours and will proactively help you troubleshoot and fix any issue that you might be having.
2. IGNITEWoo – WooCommerce Wholesale Pro Suite
IGNITEWoo – WooCommerce Wholesale Pro Suite offers you access to a collection of powerful plugins that gives you granular control over your wholesale website.
You get complete control over how you wish to display your wholesale pricing and how you wish to assign them to your different products. Not just that, but you also get tons of controls to manage payment gateways, shipping methods, dropshipping compatibility, and so on.
Here is a quick look at some of the key features of the plugin to give you a basic idea of what you can do with the plugin:
Key Features:
It offers a multi-tier role-based pricing structure to help you create different prices for different scenarios.

Support for Wholesale-only coupons.

Option to show prices inclusive or exclusive of taxes.
Allows wholesale customers to backorder your out-of-stock items.

It gives you detailed control over who gets to view the prices and content on your website.

The plugin is dropshipping ready and compatible with UPS, FedEx, and USPS dropshipping extensions.
Who is it for?
The main feature highlight of the plugin is the level of control you get over setting up the wholesale pricing for your products. You get to create multi-tier role-based pricing structures.
But at the same time, the plugin lacks essential user role management options, which can be problematic.
Overall, it is ideal for users to create wholesale product pricing for different scenarios and don't mind installing another plugin to manage their Wholesale customers and their user roles.
Pricing
Pricing for IgniteWoo's WooCommerce Wholesale Pro Suite starts at $149/year, which gives you a license to use the plugin on 1 website. It can go up to $249/year, which allows you to use the plugin for up to 25 websites.
Support
All WooCommerce Wholesale Pro Suite users are entitled to industry-leading support provided by a team of experts either via email or phone. It generally takes less than a day to troubleshoot and resolve any issues that you may run across.
3. WooCommerce B2B
WooCommerce B2B is a feature-packed wholesale plugin for WooCommerce. It offers an all-in-one solution giving you access to all the necessary bells and whistles to help you run your business-to-business eCommerce store without any possible hiccups.
Here is a more detailed look at the different things the plugin enables you to do.
Key Features:
Only shows the price to registered logged-in users. Customers who browse your website as guests won't be able to see the product prices.

Enable guest customers to see product prices inclusive of taxes. At the same time, customers signed in to WooCommerce B2B will see pricing excluding taxes.

Option to create customer groups and then allocate customized discount percentages to each group for differentiating catalog price lists.

Option to accept or deny user registration requests. This gives you complete control over which customers you do business with on your platform.
Who is it for?
WooCommerce B2B is perfect for users looking to set up a separate experience for their retail and wholesale customers. Users will get a great deal of control over how they wish to price their products, as well as tons of advanced options to manage their customer base.
Pricing
The regular license of WooCommerce B2B will cost you $45 for the first year, which you can then renew for $15/year from the next year onwards.
There is also an Extended License for the plugin, which allows you to use the plugin in an end product and then sell it to your customers. For this license, you need to pay $125 for the first year, followed by $37.05/year for each consecutive year.
Support
WooCommerce B2B offers email-based support. Typically, it takes around 1 business day to resolve any customer issue or complaint.
4. Wholesale Suite Plugin
The WooCommerce Wholesale Suite comes with three dedicated plugins to help you grow your wholesale eCommerce store. This includes the Wholesale Prices Plugin, Order Form Plugin, and the Lead Capture Plugin.
All three plugins work in tandem, giving you a cohesive and seamless experience while managing your wholesale business. Here is a quick look at some of its key features to give you a basic idea.
Key Features:
Offers tons of pricing options. You can control and manage the wholesale pricing across different levels giving you much more control over your business.

Can set certain products to "Wholesale Only" or "Retail Only."

Option to force wholesale customers to use certain shipping methods and payment gateways and add optional surcharges.

It comes with a streamlined one-page ordering form that's loved by wholesale customers/distributors.

Supports tax-adjusted wholesale prices.
Who is it for?
If you are looking to create a high-end wholesale website filled with tons of advanced features and functionalities, the WooCommerce Wholesale Suite would be the way to go.
As the name implies, you are given access to a suite of plugins that will help you show different prices for your wholesale and retail customers and provide better UI/UX for your users and powerful lead capturing tools to help expand your business.
Pricing
The WooCommerce Wholesale Suite is available under two licenses.
The Growth Bundle will cost you $147/year and allow you to use the three provided plugins on a single website.
Then there is the Business Bundle priced at $247/year, which comes with additional multi-site support and the option to use it with potentially unlimited wholesale websites.
Support
WooCommerce Wholesale Suite offers a ticket-based support system consisting of a team of experts that will help you answer your questions or troubleshoot your problems in no time. 
They also have a vast knowledge base filled with tons of useful information and FAQs.
5. WooCommerce Wholesale Price – Booster for WooCommerce
Booster for WooCommerce, formerly known as WooCommerce JetPack, is a powerful WordPress plugin for WooCommerce powered websites. It comes loaded with tons of useful features and functionalities to supercharge your WooCommerce website. 
This list of features includes the WooCommerce Wholesale Price option, which allows you to set up minimum quantities of purchase and discounted pricing for your wholesale customers.
Here is a quick look at the main features offered by the WooCommerce Wholesale Price module of the Booster for WooCommerce plugin.
Features:
Enable wholesale pricing for the products on your WooCommerce website. Set discounted prices and a minimum number of products that can be purchased to avail of the discounted prices.

Option to set wholesale pricing for all your products or just a few selected products.

Allows you to calculate the discount from the total cart quantity instead of the number of specific products.

Enable/disable wholesale discounts depending on if other cart discounts have been applied.

Can show/hide wholesale discount information from the cart page.
Who is it for?
WooCommerce Wholesale Price is mostly suited for users who need a way to showcase discounted wholesale prices of the products on their website. As such, it is ideal for users who are just getting started and/or experimenting with the wholesale eCommerce marketplace.
It is worth noting that WooCommerce Wholesale Price isn't a dedicated plugin but only a functional module of the Booster for WooCommerce plugin. The plugin comes with plenty of other modules geared toward helping you become more productive with your WooCommerce store and increase your sales.
Pricing
Booster for WooCommerce is free to download and use. However, the WooCommerce Wholesale Price module that comes with the free module offers limited functionality. 
To get the complete deal, you will need to purchase the premium version of Booster for WooCommerce, a.k.a. Booster Plus for WooCommerce, which starts at $59.99/year for a single site license and $89.99/year for an unlimited site's license.
Support
Booster for WooCommerce offers email-based support to all your technical or sales-related issues. 
6. Wholesale for WooCommerce
Wholesale for WooCommerce is a standalone all-in-one plugin that allows you to manage multiple wholesale prices and handle multiple wholesale user roles and much more.
The plugin will help you supercharge your WooCommerce store to simultaneously serve both your retail and wholesale customers without needing to create separate websites for each demographic.
Here is a quick look at some of its notable features to give you an idea of what you can do with the plugin.
Key Features:
Create and manage multiple wholesale prices.

Supports wholesale prices for simple products and variable products.

Add a percentage discount to your wholesale products if they exceed a minimum threshold of orders.

It helps you to register wholesale customers.

Option to create multiple user roles to help you manage your wholesale and retail customers.
There is also an option to extend the plugin functionalities by installing extensions. 
This includes the WooCommerce Subscription add-on. It allows you to create variable subscriptions for your Wholesale customers so they can pay a yearly or monthly rate and get access to a discounted price on your products.
Who is it for?
If you are looking to create a unique and distinct experience for your retail and wholesale customers, then Wholesale for WooCommerce is an excellent plugin for the job.
With all the features you are getting on the table, it will help you create and manage all your discounted prices and wholesale customers with utmost ease. 
Pricing
The Wholesale for WooCommerce plugin will cost you $49/year.
Support
The team of talented developers provides support over at WPExperts.io via email. Typically issues are resolved within 1 or 2 days.
Buyers' Guide: What to Look for in the Best WooCommerce Wholesale Plugins?
The bare minimum required from a Wholesale WooCommerce plugin is the option to offer different prices for your trade and retail customers. Most wholesale plugins in the market only cover this feature and advertise themselves as "the #1 wholesale plugin for WooCommerce."
However, you will need a lot more features and options to run your wholesale WooCommerce store successfully. As such, you should be looking for plugins that come with the complete deal.
That being said, here is a list of features that you need to consider when searching for the best WooCommerce Whole Plugins:
Supports different prices for your retail and wholesale customers
When setting up a wholesale e-commerce store, you want to provide discounted rates for your wholesale customers.
As such, there are two basic things you want the plugin to handle perfectly.
First of all, it should offer a simple way for you to set up different retail and wholesale prices.
And secondly, your customers should be able to conveniently switch between the retail and wholesale prices, preferable with a single click. 
Creates private WooCommerce shops
You might not want your retail customers to be aware of the wholesale prices of your products. In this case, you might want to create two different instances of your e-store specific to your retail and wholesale customers.
Your regular retail customers will still be able to visit your regular store, where they can see the retail prices for each product, along with product images and reviews.
However, the wholesale WooCommerce store would remain password protected and hidden from the regular users where only your wholesale customers/distributors can join and browse your list of products at discounted prices.
Displays products in a wholesale friendly view
The discounted wholesale price generally depends on how many products are being purchased.
For example, you might have a different price slab for customers buying only 100 products than a customer buying 1000 pieces.
In this case, the plugin should preferably allow you to set up a table where customers can clearly view the different wholesale price slabs depending on how many units they are purchasing.
Allows users to register as a wholesale distributor
While running a wholesale eCommerce store, you will need users to signup as wholesale distributors to use your website. 
Technically, you have the option to use a dedicated plugin to help you manage the user registration. However, since it is an integral part of having a wholesale WooCommerce website, it makes more sense to have the functionality with the wholesale plugin itself. It also makes things much more convenient and easier to manage.
Option to create separate user roles for your wholesale users
Like coming with the option to let you take user registrations, the plugin should also help you create separate user roles for your wholesale distributors/customers.
They shouldn't be labeled as regular users/customers of your eCommerce store and should have separate user roles with adjusted accesses and capabilities.
This one is optional, but you should look for a handy feature in the best WooCommerce wholesale plugins.
The ability to provide wholesale distributors/customers with a dedicated form to take a detailed order is priceless when trying to provide the best service. 
By allowing for a form, you not only take a wholesale order, but also allow the customer to include any special information like branding requests, multiple delivery addresses, and so on.
Wrapping Up
So these were our picks for the 6 best WooCommerce wholesale plugins. Would you mind letting us know if you found the list useful and whether it helped you find the perfect plugin to set up your wholesale eCommerce website?
As you can see, we have put together a diverse collection of WooCommerce wholesale plugins that target different users with different needs and requirements. 
But that being said, if you see that we have left out your favorite plugin from this list, then do let us know in the comments below. Your contribution will help improve the scope of this read, and it might also provide your fellow readers with a few more extra options.