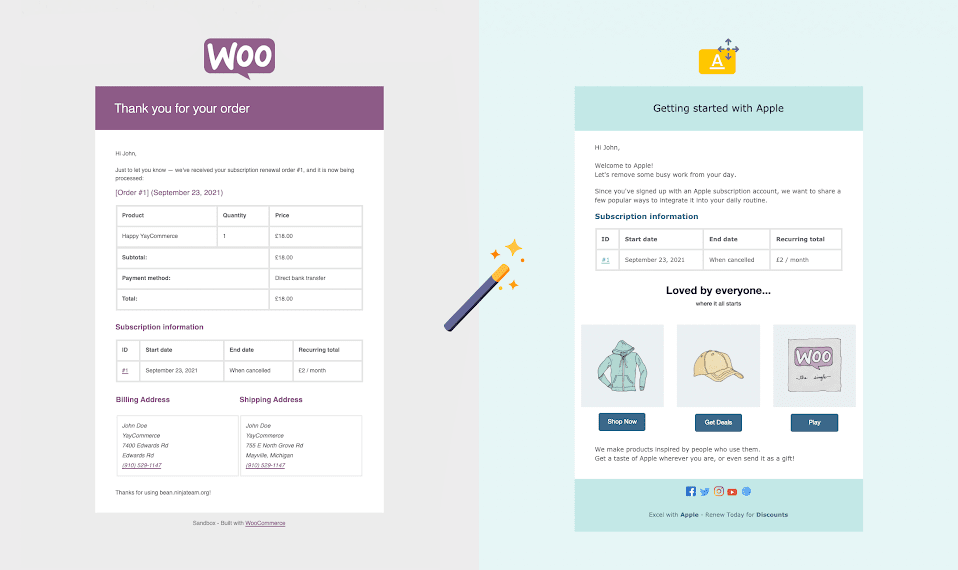 In this article, you will learn how to customize WooCommerce emails without coding by using the YayMail plugin.
WooCommerce is a simple and powerful platform for WordPress which comes with several benefits. For example, it allows you to have complete control over your online shop whereby you can achieve any kind of custom functionality.
Similarly, YayMail is an email template builder for WooCommerce. With YayMail, you can simply drag and drop blocks to create entirely new email templates.
Thus, we will look at how to customize your WooCommerce email templates in a single window without any coding at all.
Typical Features of YayMail
Even though there are numerous email customizer plugins that can help customize WooCommerce emails, YayMail is the best option because of these prominent features:
YayMail offers 11 fully customizable email templates for free.
It comes with a drag and drop functionality, making the process as easy and smooth as possible.
It comes with many shortcodes to fit all of your transaction purposes. Therefore, you do not need any coding knowledge to use this plugin.
YayMail has a live editor. With this, you can preview the template on desktop or mobile devices.
YayMail comes in a beautiful and easy-to-use interface. 
You can send a test email with a single click to ensure your desired output has been achieved.
How To Customize WooCommerce Emails Without Coding
Here is the step-by-step walkthrough on how to customize emails without any coding at all. As mentioned above, we will be using the YayMail plugin that enables users to do this in just a few simple steps.
Install and activate the YayMail plugin
Since we are using the YayMail plugin, you are required to first install and activate the plugin.
You will first need to install the plugin to your WordPress site by going to Plugins > Add New.
Once the plugin is installed, you can activate the plugin.
Click on 'WooCommerce' > 'Email Customizer' from the WordPress dashboard.
Upon activation, you will need to go to the Email Customizer from the dashboard to start customizing emails.
Select the email type or template that you want to view.
From the toolbar at the top of the page, you have to select the 'Email to Show' from the given options; New Order, Cancelled Order, Failed Order, Order-on-hold, Processing Order, Completed Order, Refunded Order, Customer Invoice/Order details, and a few others.
Use the left sidebar to manage elements.
After selecting the email type or template, you can use the left sidebar to view the 'Basic', 'General', and 'WooCommerce' elements.
The 'Basic' heading helps to edit the Logo, Email Heading, Image, Button, Text, Title, Social Icon, Video, and other elements.
The 'General' heading includes Space, Divider, One Column, Two Columns, and some other elements.
The 'WooCommerce' heading has Shipping Address, Billing Address, Order Item, as well as some other elements.
Make changes to the Settings from the left sidebar.
The left sidebar can be used to make changes to the settings as well, which include General, Email Settings, Enable/Disable Templates, Reset Templates, and a few others.
The Settings can be configured by switching them On or Off.
The preview section allows users to view the changes and all the email template blocks.
You can click on Preview to see the desktop and mobile preview.
And just like that, you can customize WooCommerce emails within just a few minutes!
Final Thoughts
This brings us to the end of our detailed guide. We have discussed how you can customize WooCommerce emails without coding with great ease. We hope that this step-by-step guide has made it easy for you to customize WooCommerce emails using the YayMail – WooCommerce Email Customizer plugin. Please comment below if you still have any questions.
Happy Customizing!